Manufacture of Molds for Trimming Presses
TRIMMING PRESS REPLACEMENT DIES

Mold manufacturing by patented manufacturing method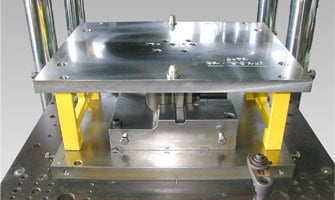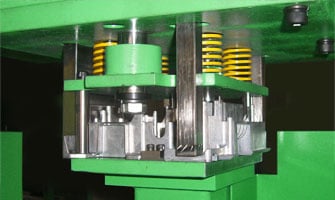 Quickly responds to advanced and diversified deburring accuracy
A mold for products made of a wide range of materials such as FC and FCD.
Duplicate is possible by modifying / adjusting the mold by machining and saving the initial mold data.
Even if it is made by another company, we measure the product three-dimensionally and manufacture a mold.

Finished product sample
 The holes on the outside and inside of the product are finished in one shot.

 Separation of the hot water pool and the outer circumference and round holes are finished in one shot.

 By finishing the round hole, long hole, and outer peripheral burr at the same time, the inspection process can be omitted.

* All of the above samples use a standard hydraulic pump and are pulled out (cycle time is about 10 seconds).
It can also be set in a stationary type (cycle time about 15 seconds).
Please contact us as the cycle time can be adjusted by changing the pump size.
Corresponding product example

The mold can be pulled out, stationary, integrated, split, etc.
In addition, the blade can be replaced quickly even in the event of heavy cutting or machining mistakes.
If you send us a sample, we will be happy to discuss it with you or give you a quote.